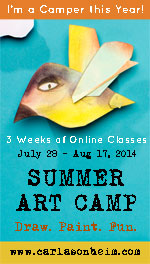 I'm still enJOYing and playing at Summer Art Camp each and every day. It has been a splendiferous gift as I go through chemo. Big Gratitude & Love for it!!
I had a rough go last end of week and weekend, so I saved Lynn Whipple's 3 days for sometime other than Now. It's the most fun, I BElieve, to play along in the "real time" days.
Karine Swenson's monster painting was great fun and a good challenge for me. I am NOT a "painter" the way I think a painter is a "painter" if that makes any sense [or nonsense].
The first go was to just use black and white and gray and focus on value.
A big part of this exercise/adventure is the shadow of the monster, but I gave up on that part pretty much from the start.
I have been having head/brain aches and it's just too hard to BE in Light bright enough to create the shadow... so I improvised and worked around what was NOT okay for me Right Now.
I found a little monster image on Google and worked from that. I was working pretty small, too, on 4-inch square canvas boards, a gift from my dear friend, Jen, in FL.
This soothed me. I find such soothing important, even essential Right Now.
One of the other things I loved about this particular camp experience was painting my monster 3 times, which gave me 3 opportunities to "see" and "show" my whatever it is critter!!
That in itself was BEyond whipped cream and a cherry!!
I also loved how Karine called this an exercise and NOT a painting. I think this is why making art is so helpful to me as I travel through Life with cancer. I get to BEgin fresh all the time and just see what happens.
One quite HUGE-to-me piece is the digital fiddling I DO with paintings to share, here or on Flickr. It's nice to own that and to realise it.
I love what happens digitally fiddling my art in Picasa and Pixlr. MayBE that is another plus for cancer. I can bring my art along, wherever I go, and fiddle happily with no "supplies" to carry!!
I tried to learn Photoshop Essentials, but kept coming back to these 2 freebies. I play in them more intuitively, so I don't think of it as trying to learn to use software.
Anyway, here's my second take, adding one colour to the black-white-gray value only.
I used raw umber which is reddish and goldish and warm gingery brownish. It was so helpful to see the value AND the colour dance.
I noticed the eye on my first monster wasn't "BEhaving" itself. Coming back to the second go round I "saw" how to change this. Might seem like a small thing but it is a treasure in my book!!!
When it came time to paint Monster #3 I was to add "colour" to the painting. Well, this was a wee thing my brain overlooked in choosing my monster from Google's pickings.
You see, my monster was GREEN. Like Elphaba in Wicked. All and only green. Of course, this was a good thing for the first go, focusing on value, but it got a little cornfuzzling at this point.
Which is largely why I decided to go with blue. I felt blue-ing was a good exercise for me with colour.
I appreciated Karine's suggesting that I NOT focus on details but get the paint on. I had done drawings first on all 3, and I noticed my perspective on the whole really shifted from the BEginning.
I learned so much from Karine. And from Carla's warm-up drawing. Such grand teachers and infinitely deLIGHTfull companions for this particular passage in my little Life.