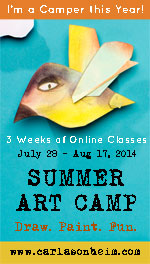 I don't think chemo is supposed to BE this fun...
I couldn't have imagined what great distraction & inspiration were possible.
Today was Day 1 of 2014 Summer Art Camp with Carla Sonheim et al.
Here are some wrong-handed crabs I drew to "warm up" or get loose.
And here is my final finished Beach Painting with Fred Lisaius.
Kind of got carried away and made my "shells" into wee critters...
I think I will call this one "Beach Blanket Brouhaha."
Just the thought is enough for a good long laugh.
I'll share more in the days to come.
Gives me a good reason to post back here...
Haven't done so in nearly 3 months!!!